WHAT DOES THE AUCSA Board do?
The Board consists of 6 members: President, Secretary, Treasurer, and three Committee Affairs Officers! Each of the positions has its own responsibilities, which you can read about in our Policy Manual, but, as a whole, the Board makes sure that committees have everything they need in order to successfully organise events and other initiatives.
Apart from tasks that Board positions involve, there are various floating tasks that Board members do. They vary from the events organisation and supervision of commissions to taking care of the website or being a contact person with DUWO.
Here is the list of floating tasks as of the year '21-'22: Vice-President, Vice-Secretary, Vice-Treasurer, UCSRN Representative, Engagement Council, AUC Alumni Association, Acquisitions Commission, Campus Commission, Diversity Commission, Sustainability Commission, Merchandise Team, Press Team, General Assemblies, Intro Week September, Intro Weekend, Intro Week February, Winter Formal, Dormfest, Elections, Transition, Website, Book sale, Quartermaster, Constitution Borrel, Board Bonding & Happy Boards Day.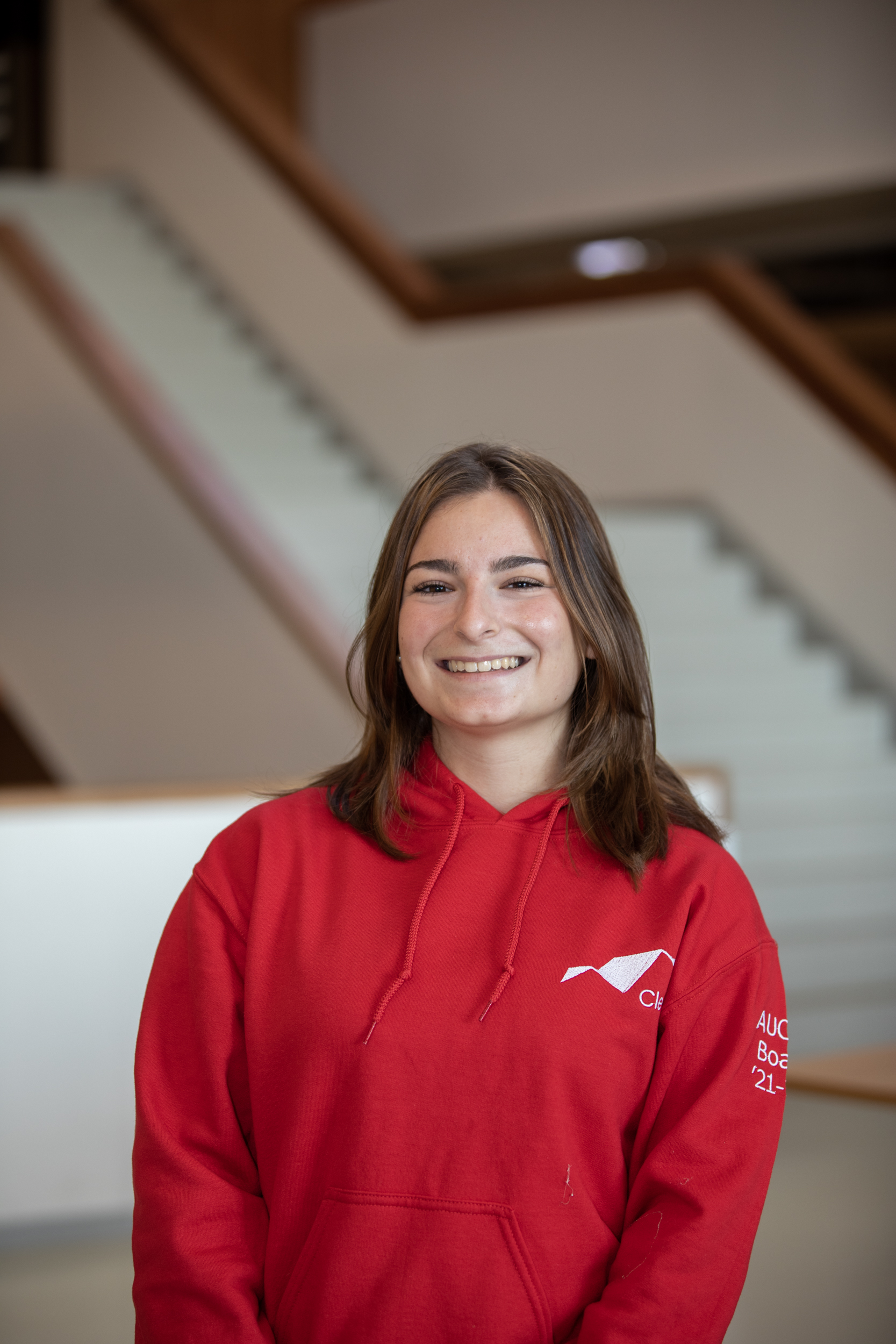 Clelia Venturin
President
Hello everyone! I'm Clelia, an Italian third year focusing on biomedicine. As president of the AUCSA board, my role would include keeping an eye on the goals and well-being of the association, as well as the internal dynamics of the board. Moreover, I will be working along side the Diversity Commission to strive to create an environment where everyone has the opportunity to live to the fullest their time at AUC. Apart from my AUCSA life, I love spending quality time with my friends, dancing and talking to people, so feel free to approach me at any time. For AUCSA related question, you can reach me here:  clelia.venturin@aucsa.nl 
Ankita Brahmachari
Secretary 
Hello! I'm Ankita, I'm currently in my third year at AUC, following the Biomedicine track. I am originally from India, but I was born in Singapore and grew up in Bangkok. My role is mainly making sure that you get all the information needed to participate in community life, as well as assuring that the administration part of the AUCSA and the Board goes as smoothly as possible. I'm also going to be working alongside the Acquisitions Commission this year, which helps the AUCSA to build its network outside the bubble. Apart from AUCSA life, you will find me out with my friends, cooking or watching tv. Even though most of the time I will be typing away or sending emails, I'm always happy to chat, so feel free to approach me whenever! You can also shoot me a message (and make me smile) here: ankita.brahmachari@aucsa.nl.
Rein Bernard 
Treasurer
Hello everybody, my name is Rein. I'm in my third year of studying phyics and sustainable development here at AUC. I will also be your treasurer for the year, meaning I will make sure that all our committees, commissions and teams have enough money to organise events for all students to enjoy. I am also part of our Sustainability Commission and the Campus Commission, which looks after our dorms. Winter Formal is also on my agenda, and I plan to make it amazing. Since I am Dutch I'm also tall, so my sport of choice is basketball. Other than that I love cooking and having a nice chat with some friends. If i'm not lost in the AUCSA budget you will find me during office hours or somewhere around the dorms. I'm always approachable, either in person or on rein.bernard@aucsa.nl 
Oliver West
Committee Affairs Officer & Vice President
Hey everyone! I am Oli, a second year from the UK. I am a social sciences major currently focusing on combining economics and sustainability. As one of your CAOs, I try my best to support all the events and initiatives of my 10 committees. This year I really hope to engage the community and make sure there is something for everyone to enjoy. I am also Vice-President, which involves helping Clelia, and the representative for the association on the Social Committee of the UCSRN. Together with Sarah, I will also be organising this year's Dormfest which I am very excited about! Outside of the AUCSA, you would probably find me out with friends, playing sports or eating. I can't wait to get to know everyone as life re-ignites at AUC so please feel free to approach me in the AB or on the street or shoot me a message at oliver.west@aucsa.nl.
Lena riss 
Committee Affairs Officer & Vice Secretary
Hello everyone! I'm Lena, a second-year Social Science student from Austria and one of three CAOs, as well as Vice Secretary! As such, I represent and support 9 committees and make sure that everything is running smoothly. On top of that, I will organize our GA's, Introweek for incoming first-years and the transition of our successor board. When apart from my board, you can find me at the park doing sports or reading, or at a party with my friends. I love meeting new people, so come to our office hours for a chat with me or send me any questions about AUC, life, snowboarding or literally anything, shoot me a message (and make me smile) here: lena.riss@aucsa.nl 
Sarah lange
Committee Affairs Officer & Vice Treasurer
Hi everyone! My name is Sarah and I'm 2nd year Social Science student from Amsterdam. Like Lena and Oli, I'm a CAO and as a CAO I am the communication bridge between my lovely committees and the AUCSA board. Along side this, I am the Vice Treasurer, which means I'll help Rein with all budget and money related things. I am also the chair of Merch Team and part of the AUC alumni association! Besides this, I will also organise Dormfest with Oli and revive Press Team. Besides doing my AUCSA duties, I love keeping myself busy with creative hobbies such as playing the ukulele or sewing. I also love hanging out with friends, travelling and just having a great time. So if you ever see me in the AB, come say hi and you can also always reach me at sarah.lange@aucsa.nl !
There have been 12 AUCSA Boards up to now. Click below to see them!